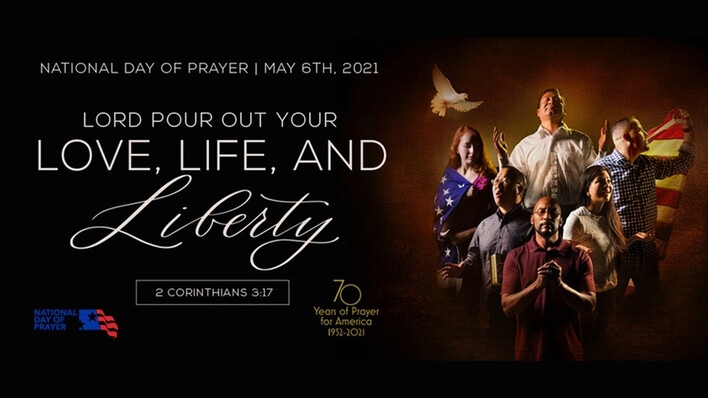 Thursday, May 06, 2021, 7:00 PM - 8:30 PM
2021 marks 70 years of the National Day of Prayer. Join us for a special prayer gathering in the Student Center as we pray for our nation.
We will not have our regular Tuesday Prayer Meeting this week due to the National Day of Prayer event.
AMERICANS UNITE TO PRAY ON MAY 6th
2021 Marks 70 Years of Prayer For America
COLORADO SPRINGS, COLORADO (FEB 25, 2021) – Americans from all walks of life will gather on May 6th to lift up our country in prayer on the National Day of Prayer. Our nation has endured a year marked by unprecedented challenges, but we know prayer has carried us through these days and the hand of God will move us into a brighter future.
This year marks 70 years since Reverend Billy Graham stood on the capitol steps in February 1952 and called for congress and the president to establish a day of prayer. By April of that year, President Truman signed the legislation into public law.
Through the decades, the efforts of the National Day of Prayer Task Force have mobilized Americans to observe the National Day of Prayer in all 50 states and in U.S. territories to pray for those who lead and those in need in our nation.
Our President Kathy Branzell reminds us of the saying, "History belongs to the intercessors who believe the future into being."
As we believe and pray in 2021, our theme echoes our prayers: "LORD pour out Your LOVE, LIFE, and LIBERTY." Once again proclaiming a promise of God in our theme verse, 2 Corinthians 3:17 NKJV, "Now the Lord is the Spirit, and where the Spirit of the Lord is, there is liberty."
"It is our prayer today and throughout 2021 that the Spirit of the Lord would pour out and pour through us across America," said Kathy Branzell. "We pray to see the Lord fill our lives, families, churches, workplace, education, military, government, arts, entertainment and media, with Biblical, not cultural, not worldly, but Spirit-empowered, Spirit-filled LOVE, LIFE and LIBERTY as designed and defined by our Creator and Savior."
The National Day of Prayer tradition predates the founding of the United States of America, evidenced by the Continental Congress' proclamation in 1775 setting aside a day of prayer. In 1952, Congress established an annual day of prayer and, in 1988, that law was amended, designating the National Day of Prayer as the first Thursday in May.