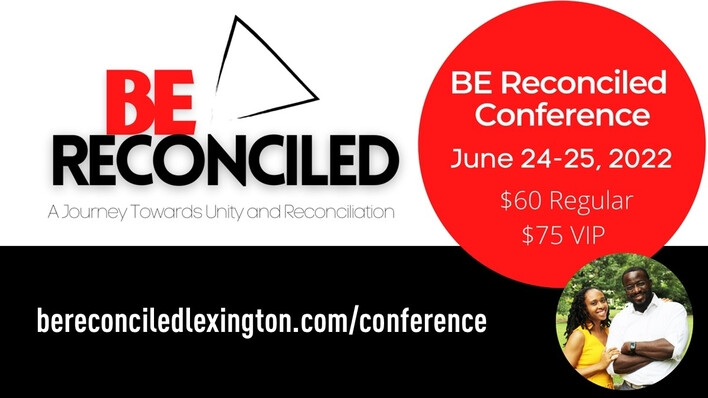 Friday, June 24, 2022 - Saturday, June 25, 2022
Do you desire to know what the Bible has to say concerning unity and reconciliation? Are you looking for a safe space to process unity and reconciliation issues?
The BE Reconciled conference will challenge you to think deeper about how you use language, process past hurts and experiences, demonstrate appropriate character, and help you consider wise actions. Dr. Conrad and Kandace Davies use ancient biblical wisdom and philosophy to activate, cultivate, and empower you on the journey.
This interactive five-workshop conference will help you engage your Christian communities with important conversations concerning unity and reconciliation.
Schedule:
Friday: 6:30 PM - 9:00 PM
Saturday: 9:00 AM - 12:00 PM
TICKETS are available online at bereconciledlexington.com/conference.
$60 Regular ticket includes admission into the conference.
$75 VIP ticket includes priority seating, coffee, snacks, lunch Q&A with Dr. Conrad and Kandace, swag bag, and book.