Men's Ministry

men's conference
Saturday, September 19
8:00 AM - 4:00 PM
COS Campus
$20/person
Register by September 13
All men ages 16 and older are invited to join us for a day of teaching, fellowship, worship, and of course, food! We will start our day with breakfast (Chick-Fil-A) behind the Ministry House. Teaching and worship will be in the multi-purpose rooms. Our speakers for the day are Lance Cooper and Dane Bledsoe. For lunch we will grill pork chops and burgers behind the Ministry House. Then we will have a second teaching session after lunch. Please bring your own lawn chair for meals.
Our Speakers:
Lance Cooper - author of "What It Takes," is the President of Sales Manage Solutions, a national consulting company for sales leadership in recruiting and coaching. Fourteen years ago he organized the first of 23 men's gatherings in the Smoky Mountains, where hundreds of men have traveled from across the country to learn about Christ and how to be a Godly man.
Dane Bledsoe - a National Trainer for Cellular Sales, has a passion for the sales culture. Earlier in his life, he dealt with drug abuse for a major part of his youth, but then he learned that God is interested in using that experience for something good. He says he enjoys being around guys who aren't trying to be perfect.
---
Church of the Savior's Men's Ministry, known as the "Mountain Movers", is a team of men passionate to reach other men with the lifesaving message of Jesus Christ. We chose the name Mountain Movers based upon Matthew 17:20, "If you have the faith as small as a mustard seed, you can say to this mountain, move from here to there and it will move, nothing will be impossible for you." We believe men should be real and have faith in a mighty God who can move mountains and change men's hearts.
We also believe God intended for men to live their life in a manner that exhibits integrity, courage, and to have a strong desire to become leaders. The ministry focuses upon building relationships between the men and their God, men and their families, and with other men. We do this through organized events, spiritual retreats, bible studies, focused teaching classes for men, mentoring opportunities and by serving others.
Men's Groups
Kingdom Statesmen
Wednesdays | 6:30 PM | Jerusalem Café
Led by Steve Gehring
Band of Brothers
Wednesdays | 8:00 PM | Ministry House
Led by Steve Pearson
SIGN UP FOR THESE GROUPS ON OUR GROUP FINDER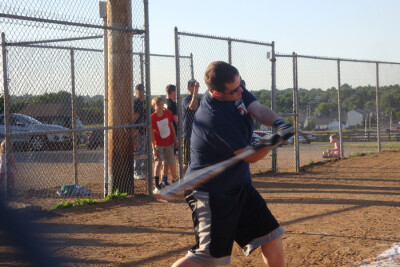 Men's Softball Team
Begins in April - Fayette Co. Recreational League
Tuesday nights | Athens Boonesborough Park