Men's Ministry
UPCOMING EVENTS
---
Retreat Information
september 15 - 17
We had so much fun last year, we are going back! We have reserved Pine Paradise Resort, a private resort park on Lake Nolin near Leitchfield, KY. There will be plenty of free time for swimming, fishing and fun activities. Prefer dry land? There is a game lodge with tables for card games, billiards, foosball, ping pong and darts. Outside there is beach volleyball and cornhole. Want to relax? Try out the hammock hut or sit by the fire pit in the evening. There will be worship and devotional times with our guest speakers throughout the weekend as we seek to know and learn more about our wonderful Savior. It will be a great time to get to know other men at COS and build long-lasting relationships.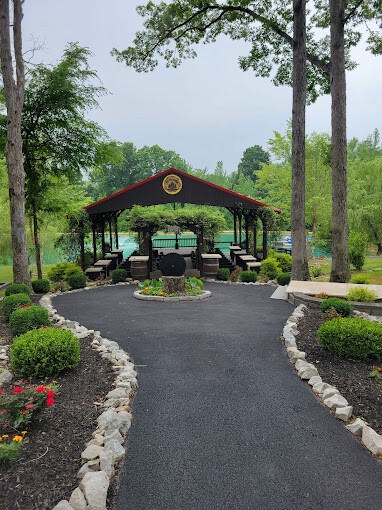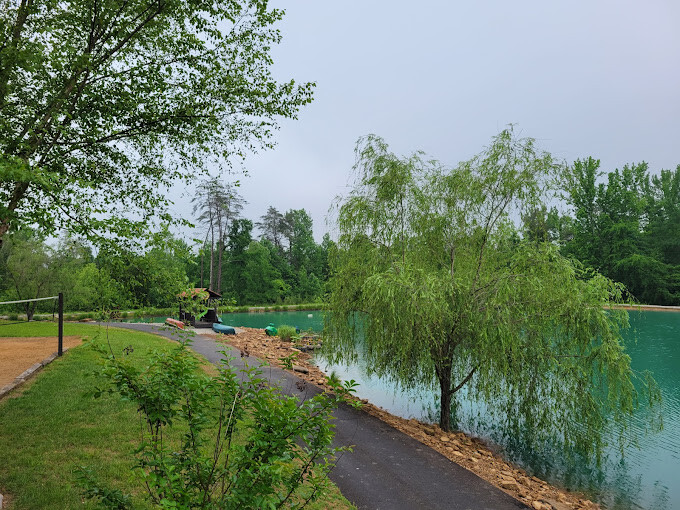 The cost is $150 per person - all inclusive! This includes 2 nights lodging, plus meals and snacks from Friday dinner through Sunday breakfast.
Registration deadline: September 3, 2023
Our guest speakers will be Adrian Thomas and Chris Segre-Lewis.
Worship leader will be Clay Wilson.
Click on brochure for more details >>>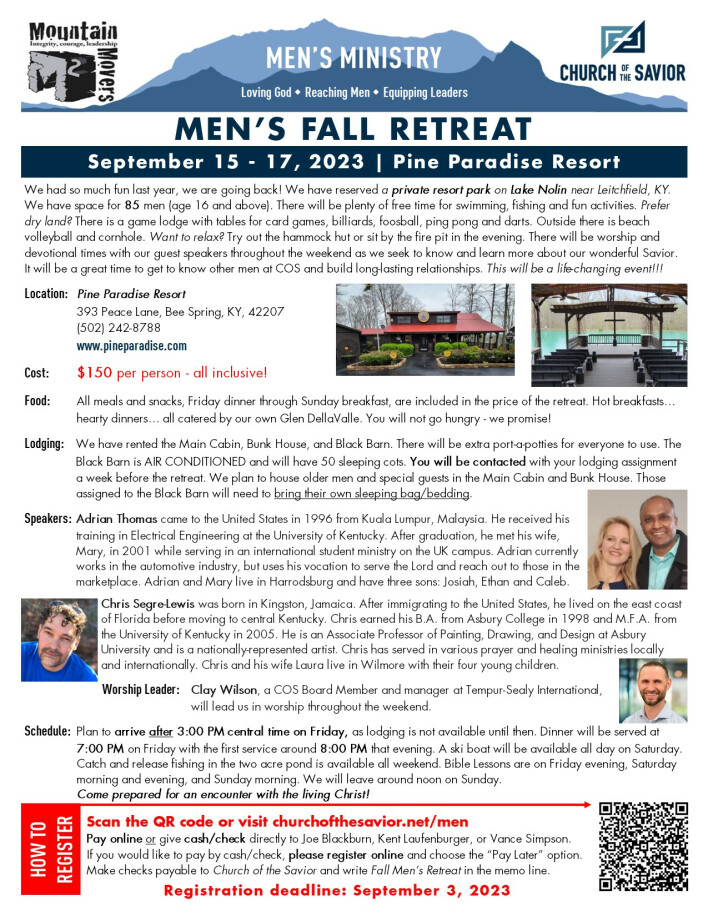 ---
Church of the Savior's Men's Ministry, known as the "Mountain Movers", is a team of men passionate to reach other men with the lifesaving message of Jesus Christ. We chose the name Mountain Movers based upon Matthew 17:20, "If you have the faith as small as a mustard seed, you can say to this mountain, move from here to there and it will move, nothing will be impossible for you." We believe men should be real and have faith in a mighty God who can move mountains and change men's hearts.
We also believe God intended for men to live their life in a manner that exhibits integrity, courage, and to have a strong desire to become leaders. The ministry focuses upon building relationships between the men and their God, men and their families, and with other men. We do this through organized events, spiritual retreats, bible studies, focused teaching classes for men, mentoring opportunities and by serving others.
Men's Groups
Measure of a Man
Wednesdays | 6:30 PM | Room 1011
Led by Steve Gehring
One of the greatest needs, perhaps the greatest need in our society today is for men to exercise spiritual maturity and leadership in their personal lives, in their marriages, and in the church. The Apostle Paul enumerates 20 leadership and spiritual attitudes that should be evident in every man of God--in his personal life, his marriage, and his reputation. Join us for this study using the book Measure of a Man.
Band of Brothers
Wednesdays | 8:00 PM | Room 1011
Led by Steve Pearson/Chris Haas
SIGN UP FOR THESE GROUPS ON OUR GROUP FINDER
Upcoming Men's Events
Men's Fall Retreat
September 15-17, 2023 | Pine Paradise Resort
Joe Blackburn, Kent Laufenburger

Fall History Trip with Kent Masterson Brown
October 7, 2023 | Cumberland Gap and Fort Boonesborough


Men's Softball Team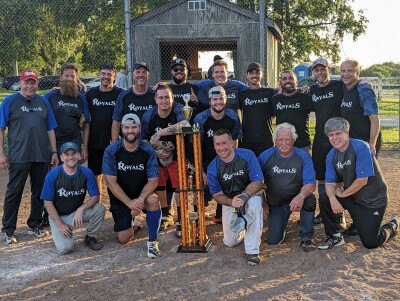 Congratulations to our COS Softball Team on winning
the 2023 Clays Mill Baptist Softball Tournament!